The England and Wales Experience Tour
Tour ID:
149
Tour Theme:
Group Tours
This tour starts from:
London
Duration:
5 Days / 4 Nights
Tour Description: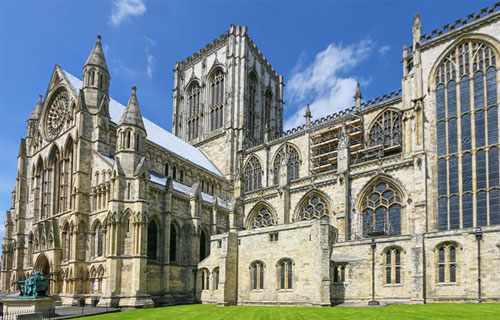 A wide-ranging tour through English and Welsh history and attractions. We'll introduce you to the most incredible scenery in our National Parks, history in our walled cities and market towns along with famous people such Shakespeare! Come join us on an adventure through England and Wales...

Day 1. Our tour begins by journeying from central London to the Tudor town of Stratford-upon-Avon, known as the birthplace of William Shakespeare. Follow in Shakespeare's footsteps as you pass the black and white half-timbered houses. You'll have time to visit his birth place if you choose to. We'll continue on to Ironbridge, a village perched on the River Severn. The bridge the village is named after is a magnificent piece of historic engineering in a leafy setting. Cars no longer cross the bridge, so it's perfect for a stroll across to enjoy the stunning views. Our overnight stop is the pretty English city of Chester. Here you can walk the Roman walls to get your bearings and a bird's eye view of the city, it takes about an hour to complete the full route, however, there are loads of stopping points and distractions such as Roman ruins, Chester Cathedral and the River Dee to admire along the way.

Day 2. We'll have a leisurely start, allowing you to spend the morning in Chester. Perhaps you will wander the 700-year-old Rows, the only raised shopping arcade of its kind in the world. Then we'll head west to Wales to drive the Llanberis Pass and revel in the mountainous scenery. Snowdonia National Park is full of wild landscapes; we're here to enjoy the peaks, waterfalls, lakes and historic villages. We'll also visit Conway, a walled market town home to Conway Castle and a lovely harbour. You can explore narrow cobbled streets and take in views of the Thomas Telford Suspension Bridge that leads up to the Castle before we return to Chester for a second night.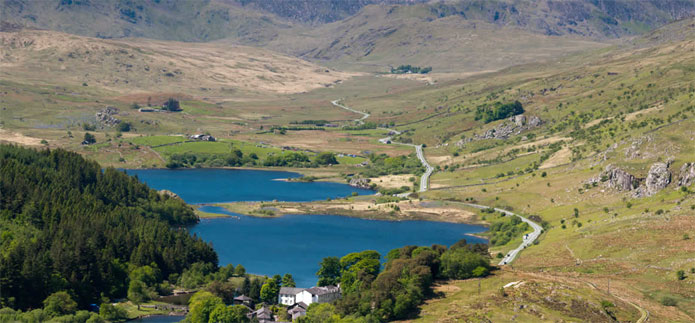 Day 3. Our third day is all about The Peak District National Park, known for its stunning views and small but bustling market towns. We'll be stopping in the pretty spa town of Buxton, the highest elevated market town in England! We'll then make our way to Bakewell, famous for Bakewell pudding; a delicious English dessert with a flaky pastry base, a layer of sieved jam, and a topping of egg and almond paste. Perfect for an afternoon snack! Another highlight of Bakewell is the lavish stately home of Chatsworth House, set in idyllic gardens, there's plenty to explore inside and out. We'll spend our third evening in York, which has been named the most haunted city in Europe, but don't worry our guide will get you safely to your accommodation for the night.

Day 4. You have the whole day to explore York, an ancient walled city founded by the Romans. You can choose what you 'd like to visit, perhaps York Minster, a 13th century Gothic Cathedral. Or the Shambles, made up of pretty cobbled streets and old-fashioned shops. We'd love you to join us on a guided walking tour of the city, but the day is free for you to do as you please!

Day 5. After a restful second evening in York we'll head south to Newark-on-Trent a pretty town which stands on the River Trent and has one of the finest Georgian market squares in England. It's also home to Newark Castle and Gardens which you'll have ample time to explore. We'll continue south to Cambridge, a leafy University city with colleges, chapels, churches and courtyards to discover. You can even enjoy an iconic punt down the River Cam, and view the stunning University buildings from the river if you choose to. We'll then have to say goodbye and return to central London.
England and Wales Experience!!!
Itinerary: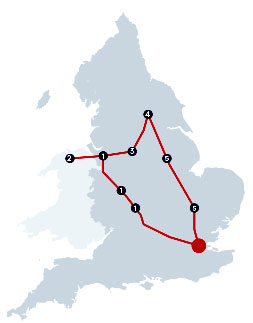 Tour Highlights

Stratford-Upon-Avon and Ironbridge
Birthplace of William Shakespeare

Wales
Snowdonia National Park, Llanberis Pass and Conwy Castle

The Peak District
Stunning scenery and market towns

York
A full day to explore this incredible historic city

Newark-on-Trent & Cambridge
Georgian market and Cambridge University

End of tour