English Coast and Countryside Experience Tour
Tour ID:
148
Tour Theme:
Group Tours
This tour starts from:
London
Duration:
3 Days / 2 Nights
Tour Description:


Our 3-day Coast and Countryside small-group tour takes you on a journey through England's dramatic and mysterious history and some of the most incredible scenery South West England has to offer.

Day 1.We'll begin our tour by journeying back in time at the Standing Stones of Stonehenge. You can buy your tickets now or from your driver-guide on the day so you can step straight into the past at the unforgettable UNESCO World Heritage site. Our guide will invite you on a guided walking tour through Stonehenge's mysteries as you wander the site and marvel at how and why these stones came to be where they are.

We'll then visit one of England's most impressive natural wonders; Lulworth Cove. This area is world famous for its unique geology and crystal clear water. Remember to bring comfortable shoes so you can enjoy a coastal walk to take in the unforgettable views.

Our overnight stop is Exmouth, a traditional coastal resort, with two miles of golden sandy beach and some delicious seafood available, this is a wonderful place rest after a day exploring South West England.

Day 2.After a leisurely start we will journey to Dartmoor National Park. With stunning views, deep wooded valleys, medieval farmhouses and Bronze Age stone circles, this is an incredible park to spend a few hours exploring. Watch out for the famous Dartmoor ponies! Our afternoon will be spent in the Roman town of Exeter where you can visit its stunning cathedral, an impressive example of gothic architecture.Exeter also has some lovely shopping streets and restaurants. We'll then return to Exmouth for our second night.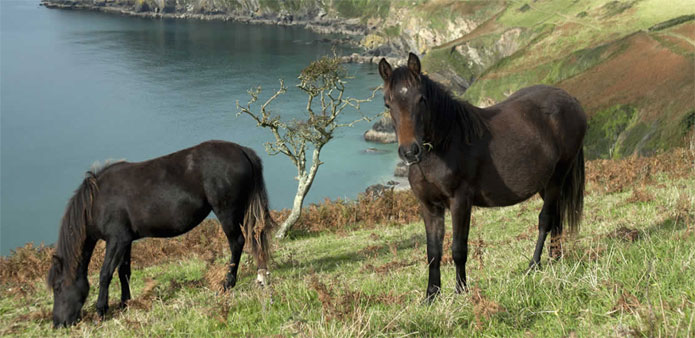 Day 3.On day three we'll travel to Glastonbury. This timeless and sacred place has something for everyone. The extensive Abbey ruins are set in beautiful surroundings, a great place to wander through the quaint streets. They also hold King Arthur's burial place. Or perhaps you'd prefer to walk up Glastonbury's Tor as your guide explains the myths and legends that surround it and St Michael's Tower. This viewpoint offers stunning views of Glastonbury and the countryside.

Next we'll visit Bath, the UK's first city to be designated a UNESCO World Heritage Site. You'll have ample time here to photograph the stunning Georgian architecture of the Royal Crescent and to relive Jane Austen's novels as you meander the streets. Or you could choose to visit the beautiful Roman built baths and learn how the Romans lived. Our guide will be leading a walking tour of the city for you to enjoy. The unspoilt village of Lacock is our final stop where you can walk the picturesque streets and admire the original timber-framed cottages. The stunning architecture and medieval surroundings of this National Trust managed village make it a popular filming location – you may recognise it from Harry Potter, Pride and Prejudice, and most recently Downton Abbey.
South West England Experience!!!
Itinerary:


Tour Highlights

Stonehenge
Explore the UNESCO World Heritage Site

The Jurassic Coast and Lulworth Cove
Stunning coastal scenery

Dartmoor National Park
Wild land of contrasts

Exmouth
Seaside town where you'll be staying for two nights

Bath
Known for stunning Georgian architecture

End of tour